Finding decent Widget plugins can be a daunting task. Sifting through masses of sites, reviews, whitepapers and technical documentation to figure out if you've finally found "The One" – only to discover that it's not been updated in months (or years), is unsupported, or has rubbish reviews.
In order to at least try and alleviate some of your pain; WP Updoot has created this handy, up-to-date list of relevant plugins – sorted by rating…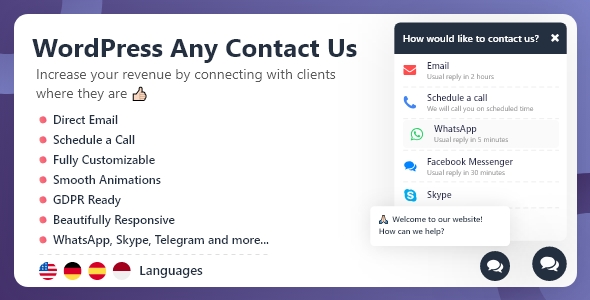 WordPress Any Contact Us
We made it simple and powerfull
WordPress Any Contact Us By WeCreativez
Increase your revenue by connecting with clients where they are.
Direct Email
Schedule a Call
Fully Customizable
Smooth Animations
GDPR Ready
Beautifully Responsive
WhatsApp, Skype, Telegram, Twitter and much more…
And More…
WordPress frontend demo Click Here
What Our Customer Says
Some Beautiful Websites Who Trust & Use Our Plugin
https://www.vehbiyildirim.com/
And lot more…
Change Log
Version 1.0.7.2 – Jul 7, 2019
Fixed: Skype redirection issue.
Version 1.0.7.1 –
Rating: 5 / 5 (from 12 reviews)
Updated: 6 July 2019 (148 days before this article was published)

---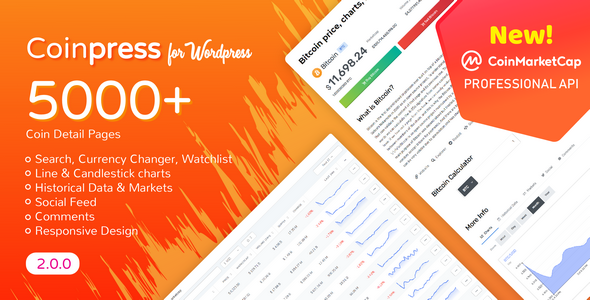 Coinpress – Cryptocurrency Pages for WordPress
Rating: 5 / 5 (from 12 reviews)
Updated: 17 October 2019 (45 days before this article was published)

---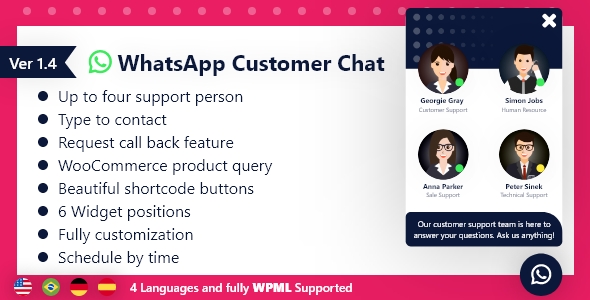 WhatsApp Customer Chat
We made it simple and powerfull.
WhatsApp Customer Chat By WeCreativez
Communication with your customers can be very easy and fast. WhatsApp Customer Chat allows your customer to start a WhatsApp chat directly from your website. It runs on your own WordPress site, allowing you full control over your support via WhatsApp.
Unlimited Support Persons
Type to Contact
6 Widget Positions
Color Customization
Pre-populated text
Auto Popup
Availability by Time and Days
Request Call Bac
Rating: 5 / 5 (from 8 reviews)
Updated: 15 September 2019 (77 days before this article was published)

---
Reactions WordPress Plugin
This plugins creates some reaction buttons that could be added to content and comments.
If you use BuddyPress you may enable reactions on user's activities, comments, groups and profiles.
Features
With this plugin you may:
Add reactions to posts, pages and custom post types too!
Add reactions to comments.
Add reactions to single views and archives.
Add reactions to BuddyPress' Actions, Comments, Groups and Profiles.
Enable or disable reactions for registered user, unregistered only, or even for specific user roles!
View archive of posts with most reactions.
Show the names of voters, with link to their BuddyPress' Profile or their Author Page.
By default this plugin on first activation creates six differe
Rating: 5 / 5 (from 5 reviews)
Updated: 1 December 2019 (the same day as this article was published)

---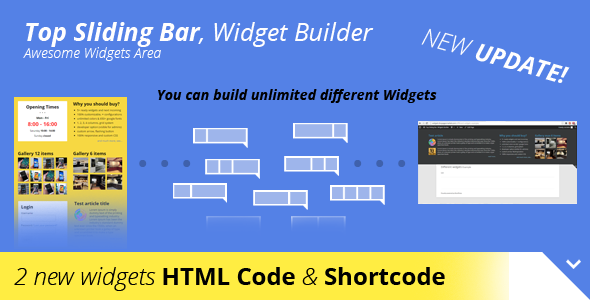 Top Sliding Bar
Top Sliding Bar, WordPress Widgets Area
Top Sliding Bar is a powerful tool to build awesome widgets area at the top section. In really easy way you can create unlimited widgets in unlimited configurations!
Features
5+ ready to use widgets and next incoming…
(login section, list, opening times, articles, gallery 6 & 12 items)
100% customizable, unlimited configurations
can be display widgets on different pages, show / hide unlimited widgets
unlimited colors really easy to change colors with colorpicker
650+ google fonts use your favorite font
1, 2, 3, 4 columns, grid system
position absolute or fixed static or floating
opening button can be flashing
background can be transparent
custom arrow just put in url to arrow
custom CSS just pa
Rating: 5 / 5 (from 5 reviews)
Updated: 2 December 2014 (1825 days before this article was published)

---
WordPress Twitter Feed Plugin
OAuth Twitter is a simple Twitter plugin which allows you to add your most recent tweets straight into your WordPress blog.
This plugin is ideal if you're looking to upgrade your current Twitter feed which may have broken due to recent Twitter updates.
Features
Editable widget to display your latest tweets.
Choose which account you would like to display your tweets from.
Choose how many tweets you would like to display.
Display as many feeds as you like.
Drop the widget into any widget-enabled theme.
[twitterfeed]twitter[/twitterfeed] shortcode so that you can drop feed anywhere into the site.
Technical Features
The plugin is built to work with Twitter API v1.1
All requests made to Twitter API are Signed & Authenticated.
Shortco
Rating: 5 / 5 (from 4 reviews)
Updated: 15 April 2014 (2056 days before this article was published)

---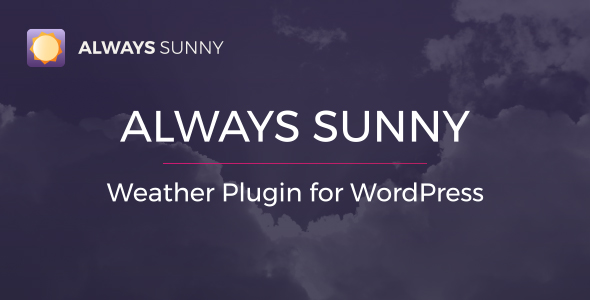 Always Sunny Plugin – WordPress Weather Widget and Shortcode
Always Sunny Shortcode and Widget
Always Sunny is a beautiful and easy to use weather plugin, based on OpenWeatherMap API, which provides reliable, up-to-date information about weather conditions in your area, or any location you define.
With its responsive design and customizable color schemes, it is easily implemented into many different layouts and styles, as a gutenberg block, widget or shortcode, on all screen sizes.
Features:
Gutenberg Optimized
Automatic Location Detection by User IP
Manually Search for Location by City Name
Display Current Weather
3/4 Days Forecast Options
Custom Weather Icons
Simple Form for Creating and Adjusting Shortcodes
Responsive and Retina Ready
Easily Customized
Modern Design
Detailed Documentation
Rating: 5 / 5 (from 3 reviews)
Updated: 8 April 2019 (237 days before this article was published)

---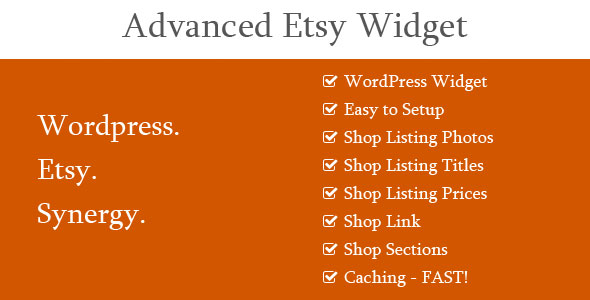 Advanced Etsy Widget
Advanced Etsy Widget is a smart and easy to install WordPress widget that allows you to display your Etsy Shop Listings on your WordPress website. This is a great alternative to Etsy Mini. When you add new items to your Etsy shop, the items automatically show up in your widget!
The term 'Etsy' is a trademark of Etsy, Inc. This application uses the Etsy API but is not endorsed or certified by Etsy, Inc.
New in version 1.3: Option to show full-size images, and option to show borders around each item.
New in version 1.2: Show product prices, no limit on number of items, and bug fixes!
Rating: 5 / 5 (from 3 reviews)
Updated: 5 March 2018 (636 days before this article was published)

---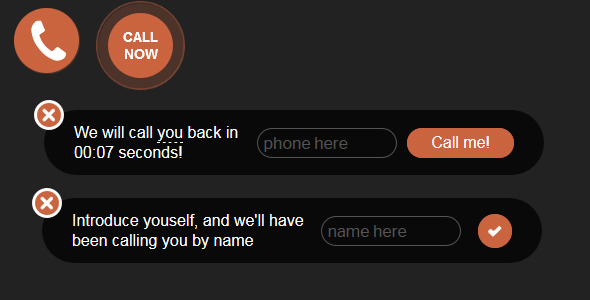 Bazz CallBack widget Pro (wordpress)
The plugin is intended for easy creating a widget on your website.
The widget will be performing «call-back function». That is, you will be recieving client's phone which the client will have specified in the widget by your e-mail.
Supported languages:
English
Russian
Ukrainian
French
Spanish (Spain)
Spanish (Mexico)
German
Swedish
Romanian
Polish
Dutch
Greek
Persian
You can setting up really any color scheme! The best integration for your design.
It is easy to configure. Just follow Bazz CallBack Widget PRO -> Settings
NEW. Request's history on admin side of WordPress
How it looks on desktop
How it looks on mobile
The email from the widget looks like:
What will be in the next releases?
The history of the recieved ca
Rating: 5 / 5 (from 3 reviews)
Updated: 10 October 2018 (417 days before this article was published)

---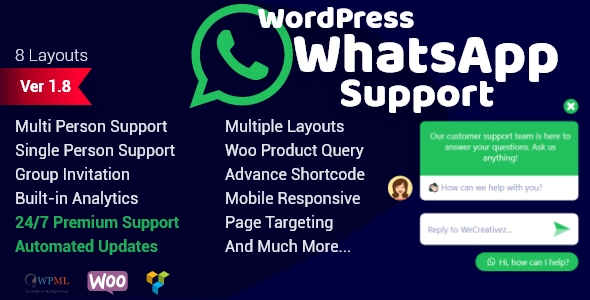 WordPress WhatsApp Support
We made it simple and powerfull
WordPress WhatsApp Support By WeCreativez
More than 1 billion people in over 180 countries use WhatsApp. WordPress WhatsApp Support plugin provides better and
easy way to communicate visitors and customers directly to your support person. It runs on your own WordPress site,
allowing you full control over your support via WhatsApp.
Multi Person Support
Single Person Support
Group Invitation
Fully Responsive
Fully Cust
Rating: 4.94 / 5 (from 66 reviews)
Updated: 24 November 2019 (7 days before this article was published)

---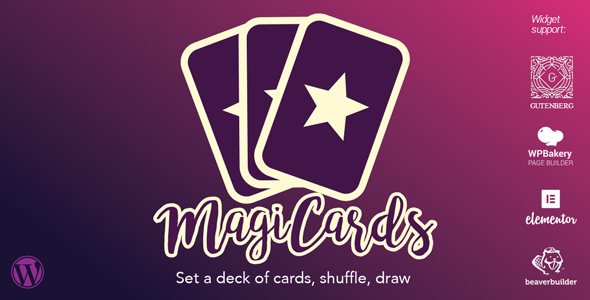 MagiCards – decks of cards to shuffle | WP plugin
MagiCards is a WordPress plugin to display some random cards on the table.
Select a deck of cards in the same way you would do for a WordPress gallery, choose the number of cards to draw, the cards back-face and the number of columns for the gallery.
You can offer tarots, playing cards, memory games, or simply random responses to your visitors, in a nice way.
Features:
Unlimited decks of cards
Back-face info panel, caption and description
Custom card size
Custom number of columns
Random upside down card option
Widget
Gutenberg block
Visual Composer element
Responsive
WPML ready
*The cards used inside the demo are not included.
Log History
—————————————————————————
Rating: 4.92 / 5 (from 13 reviews)
Updated: 15 November 2019 (16 days before this article was published)

---
All in One Support Button + Callback Request. WhatsApp, Messenger, Telegram, LiveChat and more…
All in One Support Button displays on every page of your site and provide as many contact methods as you want.
You can choose what of contact methods will be displayed on desktop and mobile versions of your site separately. Also that way you can set one link for desktop version and another for mobile. Facebook Customer Chat, WhatsApp, Tawk.to live chat, Intercom, Zendesk chat, Call Me Back, Crisp, VK chat, Skype, Slack, Viber, Telegram, Email, Smartsupp, LiveChat, LiveHelper Chat and more social communication support channels all in one message module! Requirements WordPress 3.7.x or above Features Button customization – customize button position, color, size, icon, label. All the settings can be set separately fo
Rating: 4.91 / 5 (from 53 reviews)
Updated: 22 November 2019 (9 days before this article was published)

---
Custom Sidebar Manager
All our plugins are included in our Ark Theme for free
About
Custom Sidebar Manager is ultimate tool for managing your sidebars and widgets. Add new custom sidebar, apply conditional logic for both custom sidebars and sutom widgets separately and more. With Custom Sidebar Manager is everything really easy.
Add new Sidebars and set their Visibility
And/Or set Visibility of your Widgets directly
NOTE: For the most up-to-date list of all available conditions please see this screenshot
Main Features
Placement – Does your theme have for example 3 different Sidebars but is missing a global Sidebar? You can easily create such global Sidebar with our Fresh Sidebar Manager. And vice versa – if your theme has only 1 global Sideba
Rating: 4.89 / 5 (from 9 reviews)
Updated: 28 August 2015 (1556 days before this article was published)

---
All In One Widget
All In One Widget is a multipurpose widget for WordPress that allow you to use all the power and features of normal pages in your sidebars and widgets areas.
Why All In One Widget?
All In One Widget is the best and unique widget for WordPress that support all the Power of drag & drop page editors, post translators, revisions, widget export and import and more.
Drag & Drop Page builders
All In One Widget support most of the drag and drop page builders, specially supporting WPBakery's Visual Composer and Beaver Builder.
Mega Menus Support
All In One Widget integrate like normal widgets in mega menu builders giving you more flexibility to design your menus with the ease of drag & drop editor like Visual Composer and Fusion Builder
Rating: 4.87 / 5 (from 15 reviews)
Updated: 28 June 2017 (886 days before this article was published)

---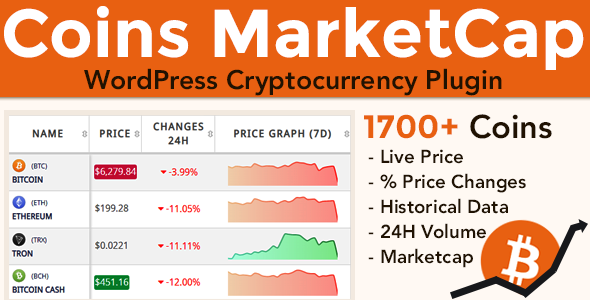 Coins MarketCap – WordPress Cryptocurrency Plugin
Coins MarketCap – Best Cryptocurrency Plugin For WordPress
Create a fully automatic crypto coins price listing website using this Coins MarketCap WordPress plugin. This crypto plugin uses coinexchangeprice.com crypto data api to show live crypto prices, market cap, charts and other data related to a crypto coin.
View Coins MarketCap Demo |
Read Documentation
Create Crypto Coins List Similar Like CoinMarketCap.com
Display a list of top 2000+ crypto coins inside your website.
You can easily sort this crypto list based on cryptocurrency rank, price, marketcap, volume and other things.
You can select which column/data to show inside your crypto list – Prices, 24h% Changes, hourly changes, 7D% Changes, Market Cap, Charts, Volumne and many
Rating: 4.84 / 5 (from 50 reviews)
Updated: 25 November 2019 (6 days before this article was published)

---
/wp-content/themes/updoot/assets/img/updoot-padded.png
0
0
Doot Bot
/wp-content/themes/updoot/assets/img/updoot-padded.png
Doot Bot
2019-12-02 03:15:53
2020-10-16 08:42:04
15 Best WordPress Widget Plugins (Dec 2019)